Most arrived in Towcester from about 7:00 pm onwards on Friday 7th September, which kicked off our informal gathering at the Saracen's Head Hotel on Towcester High Street. This is a pub well known to us (from the previous Christmas Dinner), and where many of our group stayed over the rally weekend. The beer was good and so too was the food..!!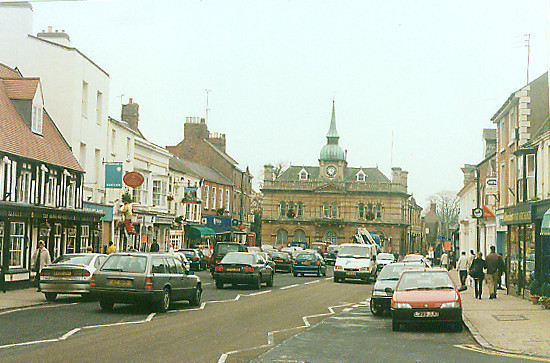 On the Saturday morning we met up at Jack's Hill Café, which is a half-mile North from the Saracen's Head pub. After a cuppa there, we left Jack's at 10:30 and took a gentle ride South, through Towcester. Turning around at the race course, we rode back through the town again and set off into the Northamptonshire lanes to sample some of the test routes used by the Hesketh development team in the early 80s. We also passed by the site of the Daventry Factory, prior to stopping for lunch.
We were back at Towcester Market Square before 4:00pm, where we lined up the bikes ready to be judged by the Town Mayor of Towcester at 4:30pm. Parking was reserved and the local media notified. The 'Lord Hesketh Trophy' was awarded to Derek with his white/gold V1000 - Congratulations Derek, It's been a good year for you and your bike, eh..? Afterwards, we set off to the Whittlebury Park campsite for a barbeque.
Sunday saw us at a fairly early breakfast so we could wave off those participating in the European leg of the HOC 30th Anniversary Baton Run, which left from Towcester Market Square, just after 9.00. (Click for Photos from the European Tour).
This has been an historic occasion for both the Club and Towcester. We had a great turn-out - Not quite breaking the pre-existing record for the most Hesketh motorcycles in one location, which was achieved on the 25th Anniversary gathering at Easton Neston in 2007, but still a fine way to celebrate 30 years of Hesketh Motorcycles and 30 years of the Hesketh Owners Club too..!